Food-loving globetrotters, here's a bit of sound advice: If you're headed to Vietnam's northern city of Hanoi, we'd recommend you pack a pair of elastic-banded pants. The city is a wonderland of cheap eats and drinks, offering an endless variety of soups, noodles, rolls and sandwiches paired with plenty of fresh herbs – and fresh beer, too.
You could spend a week eating your way through the hectic, motorbike-clogged streets of Hanoi's Old Quarter and never eat the same meal twice. Here are 10 dishes and drinks from Hanoi that haunt my hungry dreams.
1. Pho (noodle soup)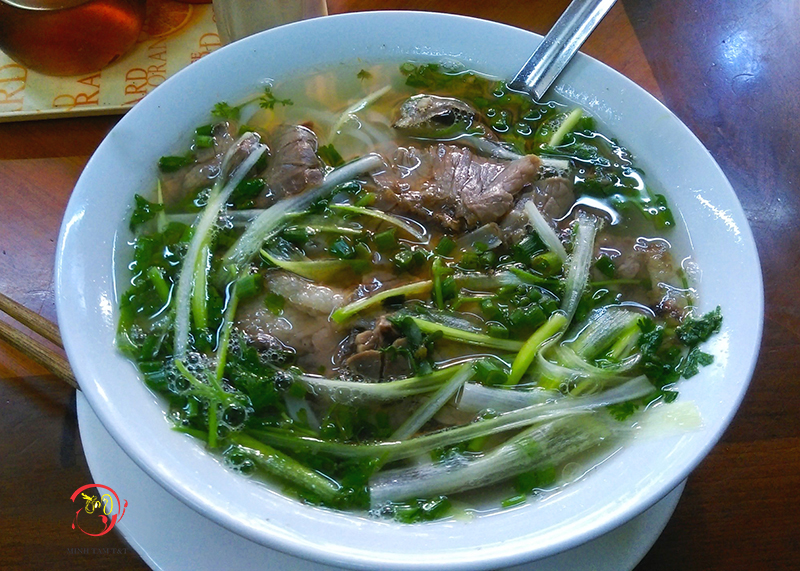 This universally famous food is best enjoyed in Hanoi, where it was "invented" in the early 20th century. Pho or rice noodle soup is omnipresent in Hanoi, appearing anywhere from street vendors to high end restaurant chain Pho 24. Some is served with chicken and some with beef. Each type of meat entails a variety of sub-dish, using from beef tenderloin to beef brisket, chicken wing to chicken thigh. The tip is, look for the place where locals gather the most and you know where you should order and sit down.
Where to try:
Pho Bat Dan is a famous local restaurants famous for its pho bo (beef rice noodle soup). Located in the Old quarter "jungle", the store easily stands out for the long line of people waiting to be served. You are highly recommended to join the local, line up for the pho bowl and bring it to a selected table to eat.
Other places: Pho Cuong (23 Hang Muoi Street), Pho Bo Phu Xuan (36 Hang Da Street)….
2. Xoi Xeo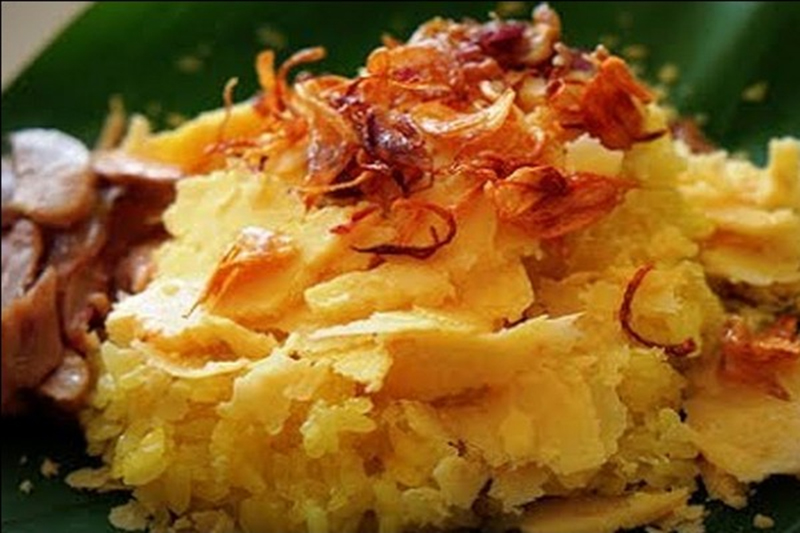 Chances are you will encounter this dish in almost every outdoors market. Xoi xeo is sticky rice topped with ground de-hulled mung bean and fried onion. Sometimes it can be served with eggs or steamed chicken breast on request. The serving is really filling and it is good for any time of the day but most Vietnamese have it for breakfast or lunch.
Where to try:
Xoi Yen is a all time local favourite sitting just North of Sword Lake (Hoan Kiem lake) on Nguyen Huu Huan street. Ask anyone in the area and they all know what you are referring to. The price varies, without chicken, a bowl of Xoi Xeo costs you about 50 cents. Have it with a glass of soy milk and you have more energy boost than a box of granola bars.
3. Banh Cuon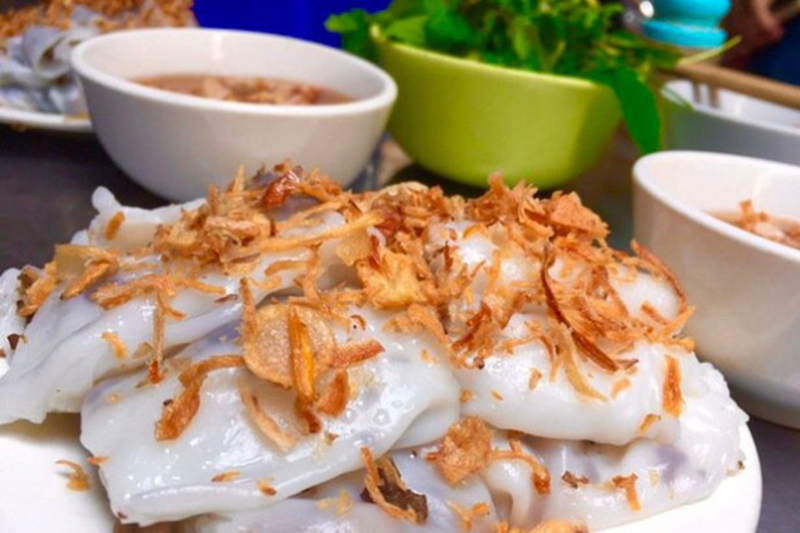 If the French has this famous delicious crepe made of wheat, egg and dairy products; Vietnamese and particularly Hanoian is proud of their steamed crepe from rice flour and water. A savoury meal, the inside stuffing contains ground pork, wood-ear and seasoning. Most street chefs make the dish right at door so look for a place that steams are coming up high. Banh cuon is served with nuoc mam, a mixture of fish sauce, sugar and lime.
Where to try:
Banh cuon Gia An – Ba Trieu street (opposite to Vincom tower) is a more upscale restaurants specializing in Banh Cuon. The price is not that big a difference (about $1.5 for a serving) compared with other street vendors (about 50-70 cents). Banh cuon there is made without preservative and of high hygiene condition. You can ask for a vegetarian option as well.
4. Banh My (Vietnamese Sandwich)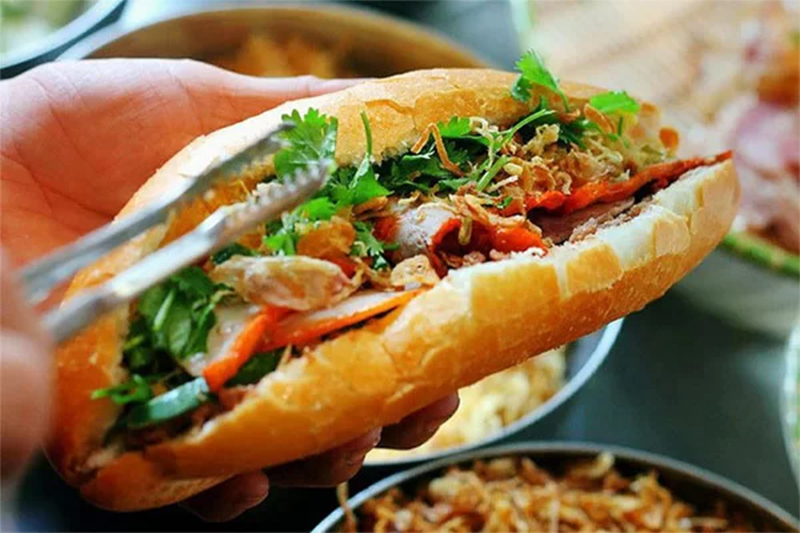 The baguette is one of the enduring symbols of French colonialism. It's given a Southeast Asian twist by stuffing it with pâté, mayonnaise, pickled carrots and daikon, jalapeños and gobs of cold cuts. But the bánh mì is basically a blank slate to which cooks can add whatever they desire.
Where to try:
Centrally located in the heart of the Old Quarter, Banh Mi 25 (25 Hang Ca Str) is a cozzy street food stall that serves delicious Vietnamese style sandwiches. Give it a try when you are in Hanoi and see whether you have find among the best sandwiches in the world.
5. Bun Cha
When lunchtime hits in Hanoi, the air is perfumed with the scent of sizzling grilled pork, the key component to the city's signature dish. The swine is served alongside a sweet 'n' salty broth, slices of green papaya, rice noodles and fresh herbs as far as the eye can see.
US President Barack Obama and CNN's Anthony Bourdain have dinner at a bun cha restaurant in Hanoi's Hai Ba Trung District.
Where to try:
Bun cha Huong Lien restaurant (24 Le Van Huu str, Hai Ba Trung district) have been famous after US President Barack Obama had dinner with CNN's Anthony Bourdain in May, 2016. Obama and Bourdain met at the restaurant for an interview over Vietnamese beer and bun cha. This dish is a Hanoi speciality and beloved by many foreign tourists. Total cost of bun cha dinner with the President: $6.00 – so cheap.
6. Bia Hoi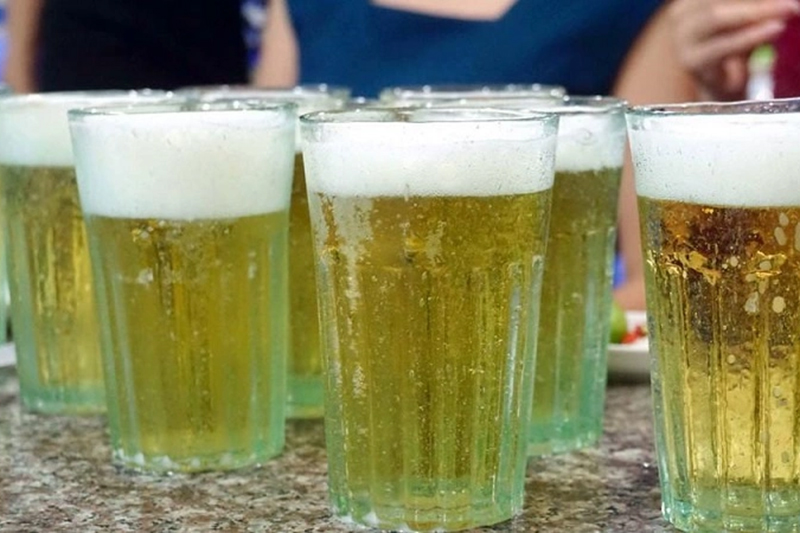 Draft beer is sacred to Vietnam, where tipplers wile away the hours sipping on this crisp, unpasteurized and unfiltered lager. Its name roughly translates to "fresh beer", that's usually sold for about 25 cents a mug. Go on, have four. You'd need to drink gallons to get drunk. It is the cheapest beer in the world.
Where to try:
If you arrive in Hanoi, you can drink "bia hoi" everywhere, almost every street in Hanoi Old Quarter also has a beer restaurants.
Hanoi Bia hoi Conner – in the intersection of Ta Hien str and Luong Ngoc Quyen str, where many tourists usually come to.
7. Vietnamese coffee (traditional and iced coffee)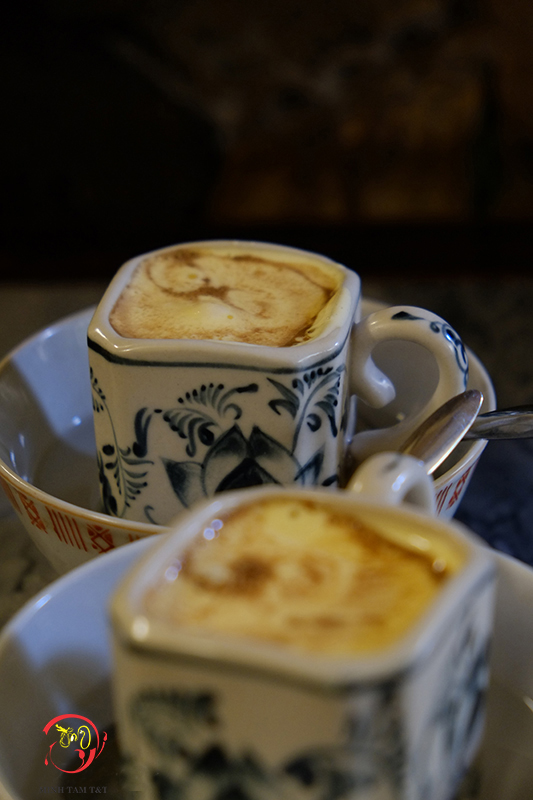 Jumpstart your nervous system with a steaming cup of ca phe sua nong – that is, potent coffee mixed with sweetened condensed milk. It's an electric jolt to the nervous system. (If you prefer your coffee cold, order ca phe sua da – with ice)
Where to try:
Ca Phe Giang (39 Nguyen Huu Huan Street), Ca Phe Dinh (13 Dinh Tien Hoang street), Ca Phe Nhan (39D Hang Hanh street), Ca Phe Lam (60 Nguyen Huu Huan street)…
Related posts