VL1-TL1: TU LAN 1-DAY EXPERIENCE
Phong Nha – Tan Hoa – To Mo – Tan Hoa – Phong Nha
Start your day with pick-up from your guesthouse in Phong Nha between 7:00 am and 7:30 am (please be ready on time).
You'll then drive 70 km over the Da Deo Mountain Pass to reach the ethnic minority village of Tan Hoa and the Oxalis Headquarters. You can leave your entire luggage at our office in the storage room.
After a safety briefing, checking gear and signing our Release Form, the day adventure begins with a 2 km walk across peanut and buffalo fields to reach the Rao Nan River.
After crossing the river you'll reach the impressive Hang Chuot (Rat Cave) to explore its massive formations for 280 m. Then climb over the mountain and trek through Hung Ton Valley to reach Hung Ton Cave. Explore this wild cave by descending a 15 m ladder with a safety rope before swimming 50 m through the cave and following an underground river to reach To Mo Valley, where a delicious lunch will be awaiting you.
After swimming at the waterfall, trek over Hung Ton Mountain (1 km), across Hung Ton Valley (500 m), and another small hill down to Rao Nan River (500 m). You'll finish the day crossing back over peanut and buffalo fields (2.5 km) to the Oxalis Headquarters, where a cold drink and shower will be awaiting your return.
Depart Tan Hoa at 5:00 pm and return to Phong Nha at 6:30 pm and you will be dropped at your guesthouse.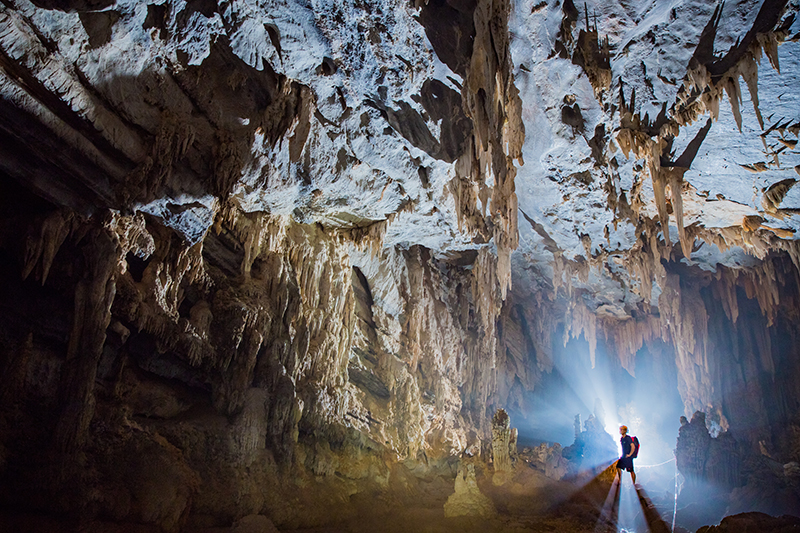 Adventure Level
Tu Lan Jungle & Cave Experience is considered easy for anyone who is physically fit and participates in regular outdoor activities, and moderate for anyone with limited outdoor experience. You will trek approximately 9 km via overgrown jungle paths and swim 50 m through a river cave (weather permitting).
9 km jungle and mountain trekking, rocky terrain
Elevation change up to 150 m (between valley and top of mountain)
50 m swimming in cave
1 km caving
 Any member of the Oxalis guide team reserves the right to turn around any person at any time without compensation or refund as deemed necessary for safety or conservation reasons.
We will provide you with the following:
Caving & safety gear: caving helmet, caving headlight, life jacket, gloves
Basic canvas trekking boots (only if you do not have your own pair) sizes 36 – 46
Meals: picnic lunch (day 1)
Professional English-speaking tour guide and guide safety assistant
Porter to prepare meals and pump water
Shared dry box for phones and small cameras (limited availability for larger cameras)
Water filter and purifier (used only by guide and porters)
Eco-friendly compost toilet using western toilet seat at lunch site
First Aid Kit and Medical Rescue Equipment (application by guides and porters only)
Secure Storage Facility at Oxalis Headquarters to store all luggage you will not be taking on the trek
Please also bring with you the following:
1 long (easy to dry) pants and 1 long sleeved shirt to wear during the trek (quick dry)
1 pair of trekking boots/shoes – difficult terrain, good footwear necessary
1 change of clothes for after the tour
1 pair of calf-length densely woven socks (not ankle socks!)
Personal items: mosquito repellent, sunglasses, hat, camera