VL1-TL3: WILD TU LAN CAVE EXPLORER 3D2N
Day 1: Phong Nha – Tan Hoa – Rat Cave – Tu Lan
You will be picked up in Phong Nha between 7:30 am and 8:00 am at your hotel and driven to the little village of Tan Hoa for your initial safety briefing. Please note that the Release Form needs to be signed before you leave for the jungle. Then you set off across sweeping fields for 2.5 km to the Rao Nan River, making your way up to the short hill into Rat Cave. Explore 300 m in Rat Cave with spectacular calcite stalagmites, after that make your way back out for a picnic lunch served next to the river in La Ken Valley.
You continue to climb 150 m increasing in elevation up Lom Com Mountain. Keep going through Flat Rock Peak and make your way to Mango Peak on Mango Mountain. After a quick break, the trek continues down into Tu Lan Valley (2 km). You'll finish your afternoon with swimming around the waterfall, followed by a BBQ dinner and singing around the campfire until sleep overcomes to you.
Day 2: Ken Cave – Tu Lan – Hang Kim – To Mo
The morning arrives with another full day of adventure. Shortly following breakfast comes a swim directly into Ken Cave. After exploring this longest cave in Tu Lan Cave System, you will return to camp for more waterfall swimming, a rest and picnic lunch.
Post-lunch, it's a 200 m swim into Tu Lan Cave, followed by a 1.5 km trek to Hang Kim where swimming (450 m) and exploration (500 m) continues before adventuring 500 m through To Mo Valley to the To Mo Cave campsite. Enjoy prepared dinner and camping within the graceful To Mo Valley.
Day 3: To Mo – Song Oxalis Cave – Hung Ton – Tan Hoa – Phong Nha
The last day continues to exude adventure and a good balance between trekking and swimming. At 8.00 am, after breakfast, you and the team will explore Song Oxalis Cave – a marvelous creature of Tu Lan Cave System. After that, you will get back to the campsite and enjoy some snacks before getting back on the journey. The guide then leads the team to trek and swim 100 m upstream past the waterfall and through Hung Ton Cave via the exit of the cave. Investigation of the dry passage leads to a 15 m ladder climb up to the entrance of Hung Ton.
Early afternoon holds the return trip across Rao Nan River, the beautiful fields and back to Tan Hoa (2.5 km), where a cold drink will be calling your name. Showers are available for those who would like to clean up and change. The tour returns to Phong Nha by 5:30 pm.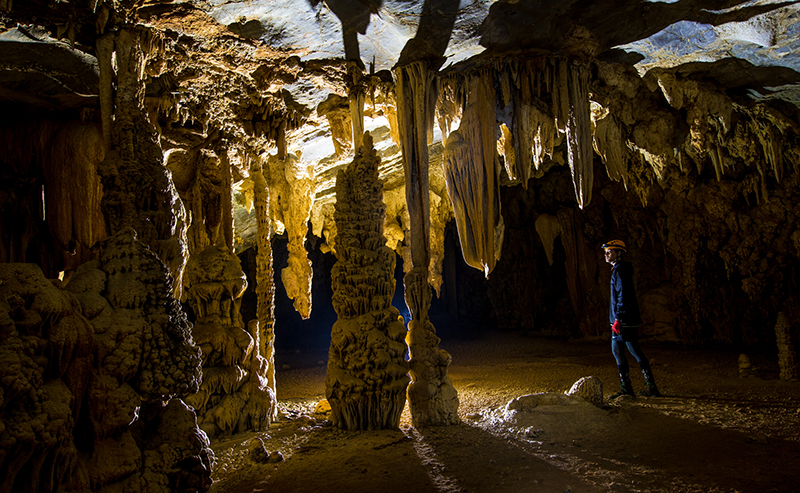 Adventure Level
Our Wild Tu Lan Cave Explorer is moderate for anyone who considers themselves physically fit and participates in regular outdoor activities, but difficult for anyone with limited outdoor experience. Please make sure that your health is suitable for these activities, you have basic trekking experience and are able to swim before taking part in the adventure.
17 km jungle and mountain trekking, rocky terrain
4 km caving
1 km swimming in caves (from 200 m – 500 m each cave)
Elevation change up to 150 m (between valley and top of mountain)
3 days and 2 nights in jungle and caves
Any member of the Oxalis guide team reserves the right to turn around any person at any time without compensation or refund as deemed necessary for safety or conservation reasons.
We will provide you with the following:
Camping gear: tent, camp light, sleeping bag, pillow, mattress
Caving & safety gear: caving helmet, caving headlight, life jacket, gloves
Light PVC backpack (if you do not want to take your own, as it will get wet)
Dry bag (for clothing and personal belongings excl. electronics)
Basic canvas trekking boots (only if you do not have your own pair) sizes 36 – 46
Meals: picnic lunches, dinner (day 1 & 2), breakfast (day 2 & 3)
Professional English-speaking tour guide and guide safety assistant
Porter team to carry all camping gear and prepare all meals
Shared dry box for phones and small cameras (20cm x 15cm or 22cm x 20cm and limited availability for larger cameras)
Water purifier (used only by guide and porters) and water bottle
Basic camping facilities with eco-friendly compost toilet using western toilet seat
First Aid Kit and Medical Rescue Equipment (application by guides and porters only
Secure Storage Facility at Oxalis Headquarters to store all luggage you will not be taking on the trek
Please also bring with you the following:
2 long (easy to dry) pants and 2 long sleeved shirts to wear during the trek (quick dry)
1-2 pair of short and t-shirt to wear at campsite and swim suit
1 pair of good-gripping and non-waterproof trekking boots/shoes (if you prefer your own comfortable pair)
1 pair of flip flop (sandals) for campsite
1 medium size towel
2-3 pairs of calf length densely woven socks (not ankle socks)
Personal items: mosquito repellent, sunglasses, hat, camera, underwear, toiletries
If you are trekking in the colder months (November – March) please bring additional warm clothes for the evening and an extra change of long pants and shirt for swimming.