Day 1: Phong Nha – Tan Hoa – Secret Cave – Hung Ton Cave – Tu Lan Campsite – Hang Ken
The expedition takes off with a pickup from any local hotel at Phong Nha at 7:30 – 8:00 am and a transfer to Tan Hoa village. You'll attend the safety briefing, check on gears, equipment & sign the Release Form at Tu Lan office prior to trekking. At 10:00 am, the trek gets underway with a hike across peanut and buffalo fields (2.5 km) to the Rao Nan River.
After crossing the river, the group will go through the first cave of this expedition called Secret Cave at 11 am. The journey within Secret Cave then proceeds forward with a trek to Hung Ton Cave entrance. The journey within Secret Cave and the following trek to Hung Ton will take from about 11:30 am – 12:00 pm. At the entrance of Hung Ton you will take a break and enjoy lunch until about 1:00 pm.
From Hung Ton, trek through the jungle to Tu Lan Campsite. At camp, you'll get settled and have time to enjoy a cup of tea or coffee before swimming into Ken Cave to the photo viewpoint where a famous picture of this cave was taken. There will be more time for swimming afterwards at the small waterfall by camp, while our porter team prepares a delicious dinner.
Day 2: Tu Lan – Hang Kim – To Mo – Hung Ton – La Ken – La Ken Campsite
Breakfast starts this adventurous day around 8:00 am. Then, the expedition group will see the namesake of the tour, Tu Lan Cave. Visit Tu Lan Dry Cave and abseil down (15 m) into the river passage of Tu Lan Wet Cave with the support of our guide team. You will either swim or boat out of the cave (exit mode depends on season/weather).
Hang Kim is next, and you'll enter via the dry entrance, follow the dry passage to the underground river and swim through the cave to exit into picturesque To Mo Valley. We will have lunch here from about 1:00 – 2:00 pm. Then, we will swim into Ton Cave, explore the dry passage and climb up the ladder to exit the cave.
It takes a further 2.5 hours to trek to La Ken Valley and then you'll reach the La Ken Campsite (around 5:30 pm) where everyone can enjoy swimming in the natural pools. In cooler weather, you can spend this extra time taking photos of the waterfall and drinking more cups of coffee or tea. Enjoy a fulfilling dinner at around 6:00 pm.
Day 3: Hang Doi – Hung Nhai – Tien Valley – Tien Campsite
At 8:00 am, the day starts with breakfast ready when you wake up. Around 9:00 am, trek over the hill and through Hang Doi, known as Short Cave or sometimes Bat Cave. This will include a very short swim. When you exit the cave, you'll see a beautiful waterfall and have time to stop and take some photos.
At 11:00 am, cross Hung Nhai Valley to the bottom of the hill. Lunch will take place from 12:00 – 1:00 pm near the river. Enjoy its fertile valleys; breathe in the fresh air, and enjoy every moment of it. You then will reach a tranquil magnificent blue lagoon located right in the middle of the jungle surrounded by rocks. This kind of scenery is rare in the world, it makes you wish you could stop the time and live in this moment forever.
Here you'll be able to enjoy a refreshing swim, and capture some excellent photos when the sun goes down. Your campsite of the night will be right beside the lagoon, where the mouth-watering fulfilling BBQ dinner prepared by porter team is waiting; this definitely will gain energy for your upcoming exploration of Hang Tien 1 and Hang Tien 2 the following day.
Day 4: Hang Tien 1 – Hang Tien 2 – Tan Hoa – Chay Lap Farmstay
Have a big breakfast to gear up for this big, final day of the trek. Hike to the largest cave in Tu Lan Cave System, Hang Tien. Known as Fairy Cave, Hang Tien has two sections and you will explore both from about 9:30 am – 1:00 pm.
Hang Tien 1 lies beyond a field of boulders and the entrance is magnificent. Rimstone pools are stacked high and add to the magical feeling of this cave. Travel deeper into Hang Tien cave and try our brand new caving activity, the 18-meter-long flying fox. Each of you will be equipped with professional safety equipment such as sit harness, locking karabiners and tandem pulleys. You will pull yourself across the steel cables, as if you were floating in midair. Our professionally trained guide team will support you. This is one of the new exhilarating parts of the tour, enjoy this amazing experience. The squad then keeps on the journey through Hang Tien 1 to its exit and then through Hang Tien 2 before making your way back.
Lunch will take place on the return through Hang Tien, at the exit of Hang Tien 1. Then the group will proceed back through Hang Tien 1. Trek over the hill to the road where you'll be picked up and returned to the office around 4:00 – 4:30 pm.
At Tan Hoa office, you will have time to take a proper shower that you have been waiting for many days, have a cold drink, collect your luggage and be transferred to Chay Lap Farmstay. Check in at the hotel around 6:00 pm, and then enjoy a gala dinner with your expedition team around 7:30 pm. The night will be spent at Chay Lap Farmstay.
Departure Day:  Transfer to Dong Hoi
Enjoy breakfast at the hotel, take a swim in the pool at Chay Lap, or enjoy Chay Lap water sports center before leaving. Off-property excursions are available as well and can be booked directly through Chay Lap Farmstay. Please contact our adventure consultant to be served. We will arrange 2 group transfers from Chay Lap Farmstay to Dong Hoi; the morning transfer is at 7:30 am and the afternoon transfer is at 2:00 pm. Please inform your departure time to your tour guide the night before to arrange transfer service.  We wish you all the best in your onward travels.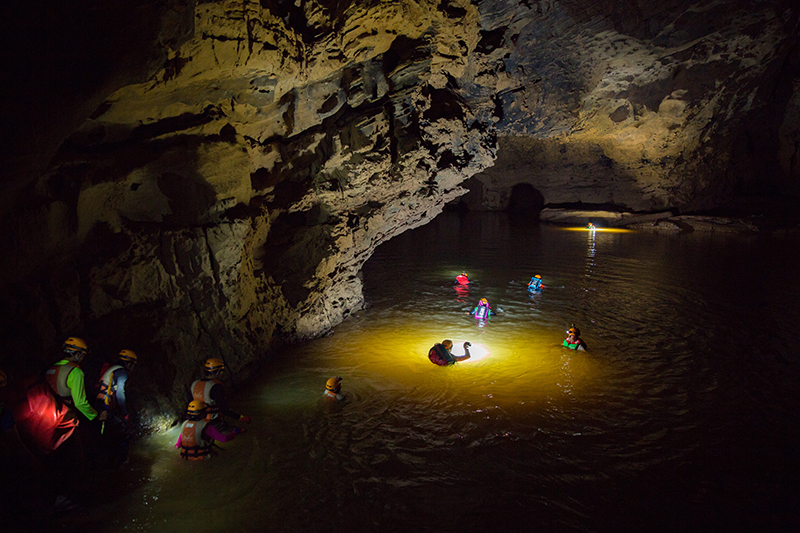 Adventure Level 5
The Tu Lan Expedition is moderate-to-hard for anyone who considers themselves physically fit and who participates in regular outdoor activities, and not suitable for those without trekking experience. Please make sure that you have basic trekking experience, you are able to swim and your health is suitable for these activities.
about 30 km jungle and mountain trekking, rocky terrain
about 5 km caving
about 800 m swimming in caves (from 100 m – 300 m each cave)
Elevation change up to 300 m (between valley and top of mountain – total of 1750m of ascent)
1 abseil in a cave (in the dark)
4 days and 3 nights in jungle and caves 
Any member of the Oxalis guide team reserves the right to turn around any person at any time without compensation or refund as deemed necessary for safety or conservation reasons.
We will provide you with the following:
1 night's accommodation at Chay Lap Farmstay (single or twin-shared)
Camping gear: tent, camp light, sleeping bag, mattresses, pillow
Caving & safety gear: caving helmet, life jacket, gloves, safety harness, ropes..
Professional caving headlight (Hope Technology headlights – 1500 lumens)
Photography lighting supports (Hope Technology – R8 3,000 lumens)
Light PVC backpack (if you do not want to take your own, as it will get wet)
Dry bag (for clothing and personal belongings excl. electronics)
Basic canvas trekking boots (only if you do not have your own pair) sizes 36 – 46
Meals: picnic lunch & dinner (day 1,2,3 & 4); breakfast (day 1, 2, 3, 4 & departure)
Gala dinner on day 4
Professional English-speaking tour guide and guide safety assistants
Porter team to carry all camping gear and prepare all meals
Porter team to carry all your personal belongings to camp
Shared dry box for phones and small cameras (limited availability for larger cameras)
Water purifier (used only by guide and porters) and water bottle
Basic camping facilities with eco-friendly compost toilet using western toilet seat
First Aid Kit and Medical Rescue Equipment (application by guides and porters only)
Secure Storage Facility at Oxalis Tan Hoa office to store all luggage you will not be taking on the trek
Transfers from Chay Lap Farmstay to Dong Hoi city center after tour
1 hour complimentary kayaking at Chay Riverside
Please also bring with you the following:
2 long (easy to dry) pants and 2 long sleeved shirt to wear during the trek (quick dry)
2 pair of shorts and t-shirts to wear at campsite and swim suit
1 pair of trekking boots/shoes – difficult terrain, good footwear necessary. Gore-Tex/waterproof boots are NOT recommended as they do not drain well (if you prefer your own comfortable pair)
1 pair of flip flops (sandals) for campsite
1 medium size towel
3-4 pairs of calf length densely woven socks (not ankle socks!)
Personal items: mosquito repellent, sunglasses, hat, camera, underwear, toiletries
Shoe pads and thick socks if using Oxalis canvas trekking boots
Tour excludes:
Travel insurance (you must purchase travel insurance to join this tour, otherwise our team will help to purchase local travel insurance at VND 440,000 for a 4-day trip and you will be billed before your arrival date)
Any additional costs other than those mentioned above; additional expenses may include laundry services, extra food & drink, and additional water sports & river cruises at Chay Lap Farmstay
Tip for guide team and porter team
If you are trekking in the colder months (February – March) please bring additional warm clothes for the evening and an extra change of long pants and shirt for swimming.