VL1-HE2: HANG EN ADVENTURE CAVE CAMP 2D1N
Day 1: Phong Nha – Ban Doong Village – Hang En
Start your ultimate adventure with a pickup from your hotel in Phong Nha between 8:00 am and 8:30 am and a short transfer to Oxalis Headquarters. Learn all about safety collect your gear and sign our Release Form before driving 45 mins through the National Park to reach the trailhead. At 10:00 am, leave the road behind for the jungle.
A steep jungle hill starts the journey, with a refreshing river at the bottom. Hike through rich primary forest to reach the Ban Doong minority village, where a hot cup of tea welcomes you. Feast on a picnic lunch which takes place shortly afterwards at about 12:30 – 1:00 pm, near the river. Then it's back into the jungle, through rivers and streams, and along the river valley until Hang En lays on the horizon.
Enter Hang En around 3 pm, and take a quick rest as the porter team sets up camp on the beach within the cave. For the next couple of hours, complete the adventure by preceding the rest of the way through the cave to the breathtaking exit, a scene made famous in the film Pan. Return to camp through the dry passage to the viewpoint high above camp, where 300 million years old fossils can be seen. Enjoy your downtime relaxing or swimming in the natural pool before a sizzling grilled dinner is served, complete with rice wine and the sounds of swifts overhead.
Day 2: Hang En – Phong Nha
Awake at 8:00 am for breakfast and pack up your belongings. Depart camp at 9:00 am to leave Hang En. Take one last look at the entrance, almost hidden amongst the jungle.
Have lunch with your group from 12:00 – 1:00 pm, then it's time to start the journey home. Trek for the next hour along a shady path through the river valley. From 2:00 – 4:00 pm, make your way up the hill to the pickup point, where our driver will be waiting to take you back to civilization. Return to Phong Nha between 4:30 – 5:30 pm.
Adventure Level
Hang En Cave Adventure is easy-to-moderate for anyone who considers themselves physically fit and who participates in regular outdoor activities, and moderate-to-hard for anyone with limited trekking experience. Please make sure that your health is suitable for these activities before taking part in the tour.
22 km jungle and mountain trekking, rocky terrain
Multiple river crossings: 30 times (knee deep, 10 – 50 m wide river)
Elevation change up to 550 m (between road and valleys)
4 km caving
2 days and 1 night in jungle and caves
Any member of the Oxalis guide team reserves the right to turn around any person at any time without compensation or refund as deemed necessary for safety or conservation reasons.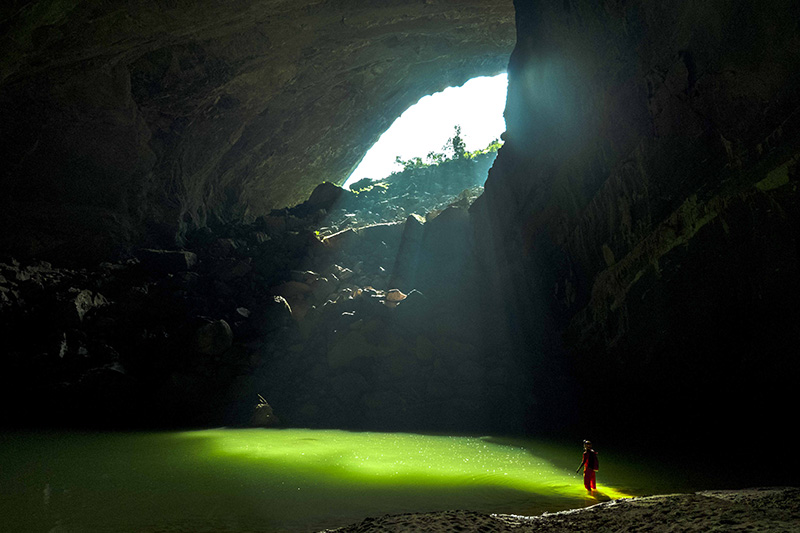 Packing list
We will provide you with the following:
Camping gear: tent, camp light, sleeping bag, mattresses, pillow
Caving & safety gear: caving helmet, caving headlight, gloves
Semi dry bag (for clothing and personal belongings excl. electronics)
Basic canvas trekking boots (only if you do not have your own pair) sizes 36 – 46
Meals: picnic lunches, dinner (day 1), breakfast (day 2)
Professional English-speaking tour guide and guide safety assistant
Porter team to carry all camping gear and prepare all meals
Shared dry box for phones and small cameras (limited availability for larger cameras)
Water purifier (used only by guide and porters) and water bottle
Basic camping facilities with eco-friendly compost toilet using western toilet seat
First Aid Kit and Medical Rescue Equipment (application by guides and porters only)
Secure Storage Facility at Oxalis Headquarters to store all luggage you will not be taking on the trek
Please also bring with you the following:
1 long (easy to dry) pants and 1 long sleeved shirt to wear during the trek (quick dry)
1 pair of shorts and t-shirt to wear at campsite (warmer clothes in winter)
1 sun hat in summer
1 pair of trekking boots/shoes – difficult terrain, good footwear necessary. Gore-Tex/waterproof boots are NOT recommended as they do not drain well (if you prefer your own comfortable pair)
1 pair of flip flops (sandals) for campsite
1 medium size towel and swimwear
1 – 2 pairs of calf-length densely woven socks (not ankle socks)
Medium size backpack (25 L) for your water bottle, personal belongings and provided caving helmet
Personal items: mosquito repellent, sunglasses, hat, camera, underwear, toiletries
If you are trekking in the colder months (December to March) please bring additional warm clothes for the evening.